One for all… electroforming,
hard gold plating, and friction renewal
With the GAMMAT® optimo2, Gramm relies on the classical, well-tried advantages of the electroforming technique and combines this with state-of-the-art unit technology. Thus, one compact unit is sufficient to cover all electroforming indications and hard gold plating cases of model casting frameworks and friction renewal of worn telescopic dentures, tapered crowns and bar-retained restorations out of non-precious or high-noble alloys – with the advantage to adjust the layer thickness. This unit distinguishes by its easy operation via menu-guided display indications and an extremely high process safety. Thus, the user is offered utmost benefit at low investment and operating costs.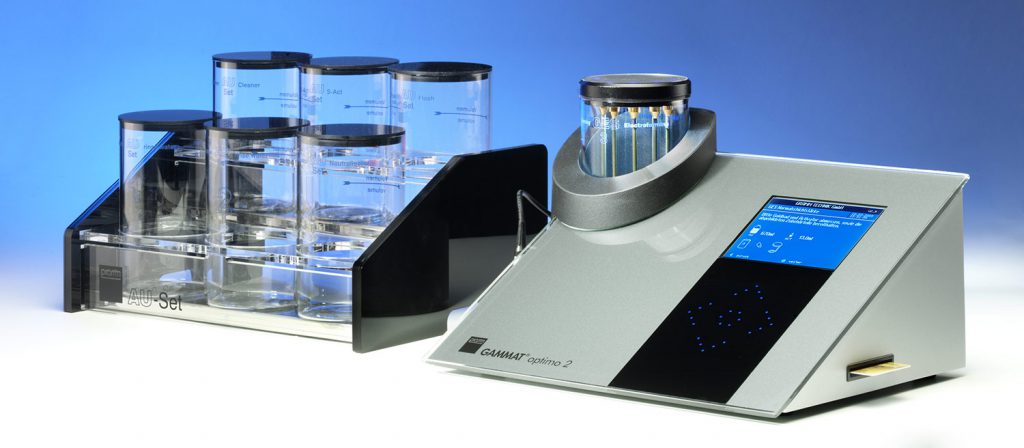 electroforms up to 13 items at the same time
runs 5 hours max.
power reception: 200 W
initialized via chip card providing easy software updates
fully automated process run
complete review of all parameters prior to process start
illuminated plating head with LED loading indication
optiCLIC contacting system
automatic power reduction in case of improper contacts
extremely easy operation
visualization with graphics on the colour display
automatic calculation of the gold amount
choice of the layer thickness
revolutionary hydrodynamics for improved uniformity of the deposits, even in case of difficult shapes
wide range of indication
high material output
recycling process
control in case of power failure
interface for PC to print a process protocol
compact dimensions
high economic efficiency
very low power consumption
friction renewal of worn telescopic cases
nickel-free 24K hard gold plating
WEEE Reg.Nr. 8587809